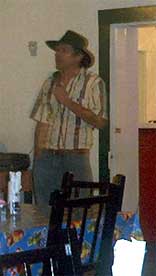 Friends of Tombstone.


OK. Kind of a soapy title. But it best describes the passion emmanating from this diverse group, some 50+ people attending. Their reasons for coming together in Tombstone vary greatly with each indivuals focus of interest. But like the McLaurys, the Earps, and the Clantons, they all, each in their own way, have become a part of the rich tapestry that has wound itself around a town called Tombstone. The gathering was organized through
BJ's Tombstone History Discussion Forum
One of the best places to find and discuss the history of the Old West.